New for 2023! Carbon Fiber Reachers!
Lighter, stronger and more rigid than conventional reachers. Available in 17", 24" and 36" reach lengths.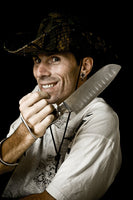 Quadriplegic Tested
Quadtools reachers and grabbers are designed to give people with paralysis the ability to live more independently.
They can be used by any disabled person with or without wrist action who needs assistance reaching or gripping objects.
* No grip or finger movement necessary
* Quick on/off - no straps
* Durable aluminum and stainless steel construction
* Designed for C5 through C7 quadriplegics
* 100% satisfaction guarantee
* Every tool is custom-fitted to each user
* Most tools ship within one week!
(Sip N' Grip Reachers ship within 2 weeks)
*Shipping cost is $15 per order(no limit on number of tools) on orders within the US. $30 USD for North America per order- no limit on number of tools. $50 USD for International. We ship everywhere in the world!
All of our tools are engineered to the highest quality standards, tested by quadriplegics, and are made in the U.S.A.
It is our mission to keep our tools at a reasonable price, while maintaining a high quality standard.
It's Our Family Business
My dad, John Sutherland, developed the Quadtools Reacher,(formerly known as "The Cripper")so he could achieve more independence. His vision is our inspiration. At Quadtools the bottom line is the joy and confidence of our customers. Read More
Testimonials
As a C-5 quad for 6.5 years there are many tools that make my life more accessible but nothing compares to my reacher made by QuadTools that is second only to my wheelchair. They call it the Quadtools Reacher but I call mine Excalibur because the second I put it on I am empowered. The sheer versatility of this tool cannot be described, as I seem to find new uses for it every few weeks. From picking up objects I drop, pulling weeds, stoking the fire, shopping for food, taking out the trash, cleaning spills, this list could go on and on. I've had my reacher for a few years now; I take it everywhere and have tortured it to no end, yet it still works great. This tool truly does put the world back within my reach. It is an empowering and versatile tool that has greatly improved my life. There are so many tasks I no longer have to ask help for. This is priceless and I couldn't imagine my life without it!

Doug S.
I purchased a grabber a couple weeks ago and felt the need to send you an email thanking you for making such a great product. I've been a quadriplegic since 2002 and this has completely changed my life. For the first time in ten plus years I'm able to pull a debit card back out of an ATM and grab anything and everything off the floor without worrying about falling out of my chair or having to ask for help. All of the little tasks that either you cannot do or take forever to do are completed with no effort because of your grabber. Thank you so much! I have shown all of my quad friends the device and the reaction is the same each time "where did you get this thing? This is awesome". I will most certainly be buying the longer reacher as well in the near future. Thanks again.

Joe S.
I enjoy only remembering a few years of my quad-ed life without the Quadtools Reacher, on gripping terms that is. Ever since being strongly recommended to try the Quadtools Reacher, I make use of it EVERY DAY. I do not yet live as independently as I would like, but this reacher has made me feel a gust of independent joy I greatly needed. I used to spend a lot more time trying to grab things off the floor with my poor grip or with a sticky picker-upper, before hearing about the Quadtools Reacher. Also, I had to ask for help a lot more often. I use it on a number of activities of daily living. I use it to organize, make my bed, pick up pills off the floor, open doors and drawers, grab bottles of water and bags of food from cabinets, pick things up from store shelves, take down jackets off hangers, and can lift things that are at most 2 pounds in weight, mostly because of my strength/wrist/hand ability. Even able-bodied people can find it useful on occasion. Thank you Jeff, it's a great invention!

Otilia I.
I just wanted to say thank you, thank you so much!! I was actually able to pick up a coin the very first try! Maybe that doesn't surprise you, but I just kind of figured it would take a little bit of practice. I assumed the gentleman in the video had been working with his, but it was easy first try. Absolutely ingenious design. Thanks a ton.

Daniel K.
I ordered a Quadtools Reacher about 2 years ago, and couldn't imagine life without it. (I am a C5 quad) Thank you again for your products, they stand above and beyond the competition. I'm planning on ordering the shorter model and the chef knife.

Eric O.
I just want to thank you for the Quadtools Reacher. I received it and I love it. Great tool for us quads. I have been using reachers for a long time but The Quadtools Reacher puts them to shame. Thank you!

Paul P.
My tools arrived today and I am like a kid in a candy store! - I just love the reachers they are going to give me so much independence in my studio when I want books/dvds etc. The scissors are crazy and I'm going to have so much fun helping my son/nieces/nephews with different craft projects - I feel like robo cop though, we should design some in pink! - I love the gardening shears, just love them - I went straight outside to try deadheading my roses and they really worked.

Carol T.
Good day Jeff, I received it yesterday. It works well. I need to practice but for now I tried few things q-tips, cap bottle... Easy to use, I'm very happy. Thanks very much.

Charles M.
I just got my new reacher and I can't tell you how pleased I am with it! The design is awesome, the quality of the parts are top notch. The fit and finish is just beautiful. This reacher is going to make a big difference for me and I can't thank you enough.

Neal M.